65 years of Plas y Brenin: Jean Roscoe
By Jack Nicholl - August 28, 2020
Plas y Brenin turns 65 this year, and we've been asking for your stories of your time at the centre. Our first published account has been very generously provided by Jean Roscoe, 88, of Bangor, who volunteered at Plas y Brenin between 1956, the year after we opened, and 1960:

"Some of the happiest times of my life were the weeks I acted as a Voluntary Instructor at Plas y Brenin between 1956 and 1960. During some of those years John Disley, an Olympic Steeplechaser, was Chief Instructor and John Jackson was the Director of Plas y Brenin. They were delighted to have us because there were serious difficulties concerning the running of courses in the early years.

In the 1950's Outdoor Activities suddenly became the fashion and many of us almost worshipped the best rock climbers and mountaineers, Joe Brown, Sir Chris Bonnington, the Everest climbers and others. John Disley was continually training for races. We Voluntary Instructors marvelled at his fitness. On return from instructing during the day he would weigh himself and then run to and back from the Pen y Gwryd to keep extra fit. We would watch him in awe when he reweighed himself on return and we learned that he had lost three and a half pounds in weight during the run.

There were few ways of qualifying to be an Instructor in the early years. Only personal experience and knowhow allowed us to instruct. We were not trained and examined as are the present day Instructors. I remember John Disley took me to the Pinnacles to see if I could lead a particular climb. It was too hard for me at the time so that meant I would not be leading rock climbs. I was glad because I knew that I was not skilled enough to be a rock climbing Instructor.

John Jackson, the Director, had great humility and had climbed in Nepal and similar areas many times. He frequently gave us wonderful illustrated lectures of the places he had been to and explored and left us spellbound with the slides of his fantastic expeditions.

In the evenings we often had folk singing and dancing in the dining room organized by Roger Orgill. The Bill Haley & His Comets song, Rock Around the Clock, drove us into a frenzy of activity some of the evenings.

I met the Rock and Ice climbers one Christmas when I went to Wastwater with friends. Don Roscoe and I became friends and while instructing at Plas y Brenin the following summer when I was with a group we met Don, Joe Brown and a couple of their friends. I invited Don to Plas y Brenin that evening. The Rock and Ice crowd wore poor clothing because they were all poverty stricken. I shall never forget the gasp of surprise when the smartly dressed gentlemen Voluntary Instructors sitting round the staff room saw Don for the first time in his tattered jumper. My introduction of Don to the Plas y Brenin world changed his life because they needed a skilled rock climber and they asked him to join the permanent staff. Eventually we married and lived in Dolwyddelan, Llanrug and then Bangor. After twelve years and two sons, Don and I divorced, and I entered the political world of Gwynedd. I became a Liberal Democrat County Councillor and a Bangor City Councillor, for seventeen years altogether.
One very memorable cold winter was in 1962-3. Don and I were visiting the centre when the Llynnau Mymbyr froze with a beautiful smooth surface. John Disley hired many pairs of ice skates and we were able to skate from one end of the Llynnau to the other in perfect peace and quietness.
Alas, my life as a mountaineer has come to an end because of osteoarthritis and old age as I am now 88.Ugh! I keep in touch with the mountaineering world because I am an Honorary Member of the Mountaineering Club of North Wales and I am a member, now inactive, of St Julitta's Church Group. I have always loved Capel Curig.

Outdoor activity has totally changed but the qualified Instructors still enjoy their work and adventures much as we did in the early years."
Our utmost thanks to Jean for taking the time to share her story with us.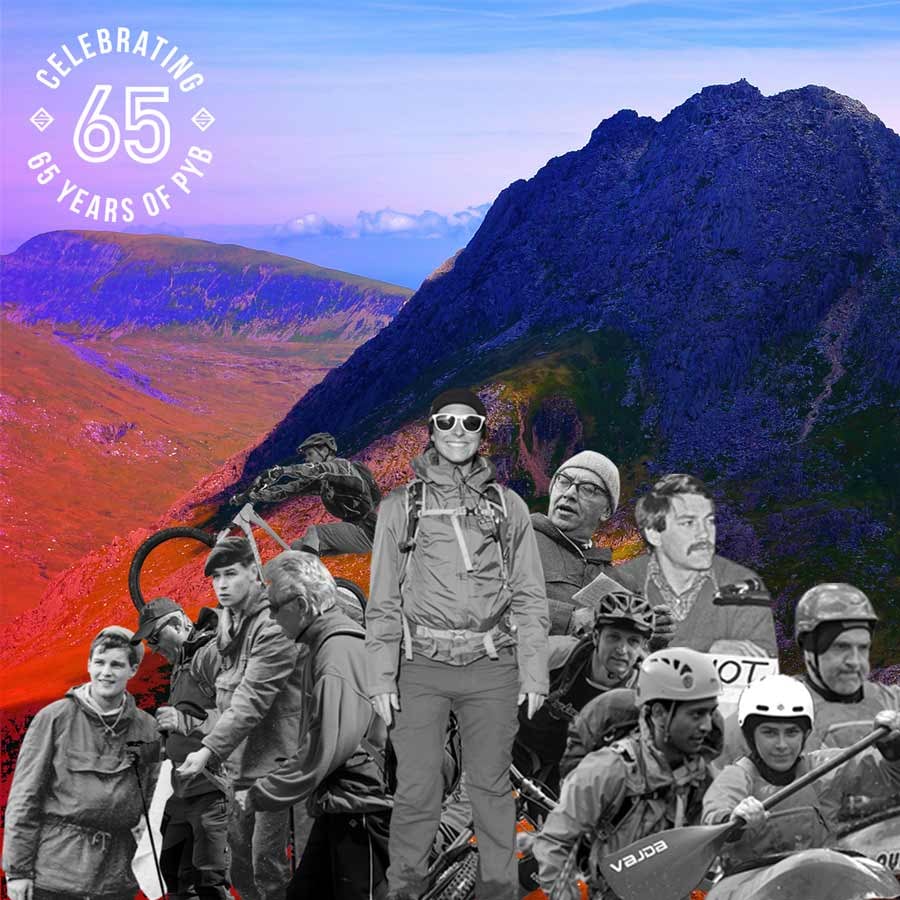 Have you visited, trained or worked at Plas y Brenin? If so we'd love to hear from you. Email us at 65@pyb.co.uk