Expedition Top Tips - Mountain Leader Assessment
By Steve Worth - June 19, 2020
I think everyone remembers doing their Mountain Leader assessment, especially the overnight expedition. It's a big deal, and for most people it's probably the first time they've been assessed for that amount of time. Effort, time, and money will have been invested; everyone wants to pass, and everyone wants to pass with flying colours. The expedition is the main event and a strong performance is key to not only passing, but actually enjoying the assessment process.
I've really enjoyed worked on Mountain Leader courses over the last ten years. They're fun, engaging, challenging, and I get to meet lots of interesting people. I'm not sure how many nights I've spent on trainings and assessments, but it's quite a few. I've seen all the weather Snowdonia can offer and have been able to refine the kit I use and how I use it. I've also had the good fortune of learning from the folks on the course, trying out their systems and suggestions. It's never-ending I suppose. I hope you find some of these ideas and tips useful, and that you enjoy your assessment!
Light is right... to a point!
The heaviest bag I've seen a candidate carrying on an assessment expedition was 25kg, the lightest 8kg. Funnily enough, it was the on the same assessment. Who do you think had a more enjoyable time?!
My bag weighs between 8 and 10kg, regardless of the season. The bag's contents change according to the season and weather, but always weighs somewhere in that bracket. I don't use really expensive / superlight kit, but equally, I'm very aware of the weight of things, and only carry what I really need to. It's always a fun competition between staff to see whose bag is the lightest. (It's great when they have a lighter bag and feel smug, only to find they've forgotten something essential like their toothbrush)
The expedition is physically and mentally demanding. We want to see how you perform when you're a bit tired and stressed. We're not being unduly harsh, we just need to confirm that you have the ability to look after a group in the hills when the going gets tough. And what better way than to go camping for a couple of nights? You'll need to pack all the kit you need to feel comfortable, warm, dry, well fed and well watered, without feeling burdened by a heavy bag. Get this right and you'll put yourself in the right place to perform.
Light is right, as long as you have enough! I've known of people leave sleeping mats or spare warm layers behind in the hope of keeping their bag light. This is too light – they suffered from a lack of sleep and felt cold. At the other end of the spectrum, I'd say any bags over 13 / 14kg are too heavy to be lumping round the hills for 48 hours. Candidates often struggle physically with the weight, tiring more quickly than they should. Heavy bags also make it harder to move freely to spot group members, or perform tasks that require balance, such as confidence roping.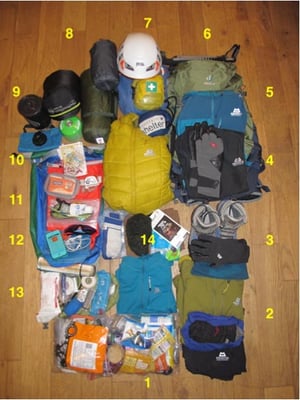 Enough food for 3 days.
M.E. Ibex Mountain Pants, Switch Pro hooded jacket.
M.E. Tupilak Atmo, Saltoro Pant, Superflux jacket.
Deuter Guide 45+ bag.
Black Diamond Distance Z walking poles.
Toothbrush, ear plugs, tissues and compostable bags.
Phone (in a waterproof casing) ear phones, flask.
Admin / spares bag: tape, zip ties, Leatherman, Power bank.
Luxury items!
Food
I imagine you're familiar with Steve Long's book "Hillwalking", the textbook for the Mountain Leader scheme (HINT: if you're not, you should be!). There's lots of relevant information in the 'Living in the mountains' chapter. Being well fuelled and watered is essential to perform to the best of your abilities, just as with any athletic pursuit. Steve suggests consuming approximately 3500 kilocalories per day is, though this varies between people.
I'd recommend reading the nutrition labels on anything you buy and totting the calories up, and focusing on the carbohydrate makeup. You'll find two numbers; the total for carbohydrates (complex) and a total for carbohydrates, of which sugars (simple). Complex carbs are the best bet for hill walking, giving long-lasting energy, wholemeal wraps and pasta are good examples. Simple sugars give a quick boost and then a crash. I think they're great for morale, especially during night navigation (!) but sadly eating multiple Mars bars isn't the way to go!
My colleague Iona has written a more detailed article on mountain nutrition, you can find it here.
If you're staying at Plas y Brenin for your assessment it's worth knowing that expedition food is provided. Please let us know If you have any special dietary requirements.
Here are some of the things I like to take with me on camp;
Breakfast
You can take instant porridge sachets, but I prefer to make my own, here's what I do;
Put 80g of oats into a durable ziplock bag.
Add sweet things, I like desiccated coconut and sliced dried fruit.
Chuck in some protein, I like cashews, and sunflower or pumpkin seeds.
Sweeten with extra sugar if needed or add milk powder.
Add hot water. Let it sit for 5 minutes. Stir. Winner!
Lunch
If the weather's foul, it may be unlikely that a nice sit-down lunch will be on the cards, I might be constantly grazing instead. I plan my lunches and snacks for the worst-case scenario. Wraps can work, but can end up a bit seepy...! So what are the other options?
Cereal bars and flapjacks are a really good easy fix for lunch on the go.
Trail mix works well. You can make your own far cheaper than buying, and you can put in what you like. Dried dates, apricots, figs, nuts, seeds and the odd sweets are my go-to. I always end up eating the sweets straight away with only the nuts to aim for by the end!
Dinner
It's worth thinking about the type of stove you need to cook a certain meal and how much gas you'll need; cooking rice for example uses much more gas to cook than just pouring hot water on cous cous. Sometimes I take premade meals and sometimes I make my own.
Boil in the bags meals are great, but they're quite heavy and surprisingly low in calories for the weight. They normally need 7 minutes' cooking to warm through, but you can eat them cold if you're realIy desperate! I tend to supplement them by adding cous cous or pasta.
I mix cous cous, chilli flakes, dried mushrooms (posh ones from Waitrose) and fresh herbs together in a ziplock bag. You could add dried meat too. It's quick, tasty and nutritious.
Dehydrated meals are lightweight and use little gas, as it's just a case of adding boiling water. Firepot meals are particularly good; no additives or preservatives, made with real food, taste great and come in compostable bags. You'll find a selection of these available as part of our expedition food selection if you stay with us for your assessment.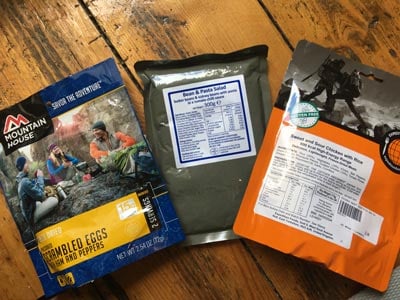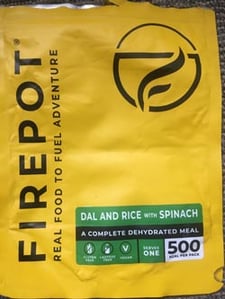 Top cooking tips
What you eat will have an effect on the amount of fuel you use. A new 250 cylinder should be plenty for the expedition.
Improve fuel efficiency by monitoring the stove and having an effective windshield.
When the water is boiling, turn it down to conserve your gas, having the burner fully open won't make it boil quicker!
The pressure in the cylinder is affected by the cold. Using a '4 season' gas cylinder, a propane / butane mix works better when it's chilly.
It's also worth investing in a canister tripod to keep it off the ground and stable.
When you've finished cooking or making brews, and it's a bit fresh outside, place your cylinder in your sleeping bag or inside your coat to keep it warm. I often put the cylinder at the end of my sleeping bag overnight so it's warmer for the morning.
A water carrier or squashed 2 litre plastic bottle can save you having to keep getting in and out of your tent for more water. Once you're in, you're in. Lovely!
Camping
Being well fed is half the battle. Being well rested is the other. You want to not only rest physically, but mentally as well. Being comfortable and warm doesn't mean carrying lots of extra weight, it just requires some thought on what you have and its suitability for the job in hand.
Tents and sleeping systems can be bulky and heavy, especially if you're carrying a tent on your own. You're welcome to share a larger tent with another candidate, this can work well as it's saves you from carrying a two-person tent alone. Sharing a tent on assessment can be really nice, I remember being able to offload the day's highs and lows, and my tentmate didn't snore which was a blessing! Doubling the amount of wet kit can be stressful, so be careful with your tent selection – an oversized porch is very handy.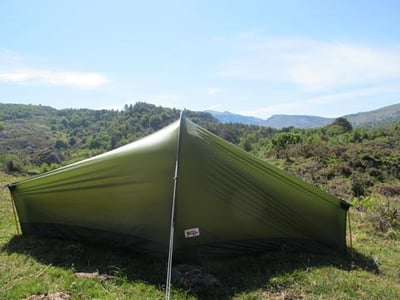 .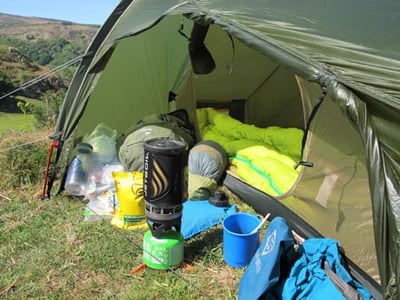 I like to use a single person tent, they should weigh less than 2kg. It's a Fjallraven Abisko Lite 1, it weighs in at 1.6 kg and, similar to other Scandinavian manufacturers, offers super lightweight 4 season design without sacrificing space. It's quick to pitch and has plenty of room in the porch for (careful) cooking and kit storage. The inner and outer pitch simultaneously which is brilliant for poor weather.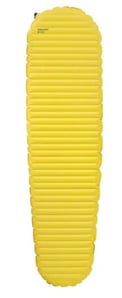 If someone was to ask me what the best bit of kit I own is, I'd say without a second thought my Thermarest Neo Air Xlite sleeping mat. It's the best investment I've ever made. It wasn't cheap, but I've had lots of use out of it. It's 75mm thick, weighs 340 grams, packs away to nothing and like the colour, it's absolute gold! Other similar sleeping mats are available at varying degrees of price and thickness, but be careful about buying anything too cheap as they can often be bulkier and heavier. I'd say a good mat is a great investment. Be warned though that air-filled mattresses can and will puncture, so a quick check of the ground before lying down is prudent. A small repair kit consisting of seam grip and a patch is a good bet too.
Deciding which sleeping bag to take is probably the crux for me. Ultimately I'm asking: which bag can I get away with? I like using down sleeping bags as they're light and pack down to a small size. They're expensive, but I think they're worth the investment if you camp a lot. Mountain Equipment make great down bags, I've been using them for over twenty years. Consider checking whether it's ethically sourced down, as shown in the logo. Synthetic bags are heavier, bulkier and cheaper. Their main advantage is the fact they retain some warmth even when they're wet, unlike a down bag.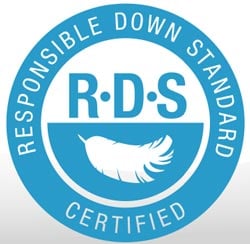 If it's cold during the night I wear more clothes. A common mistake I've seen is when someone's used their clothes as a pillow and shivered the night away! By planning on wearing certain garments in bed, you can often get away with carrying a lighter sleeping bag. I often keep my insulated jacket and hat on, and always remove any damp layers like socks, underwear or base layers. Assessments close to the winter months might need slightly different systems. I might take a fleece sleeping bag liner or thermal leggings and a bivi bag, both make a surprising difference without adding too much extra weight.
It's also worthwhile thinking about how many and what spares you carry. It's nice to have things "just in case", but realistically weight can add up, and it's a shame if things are unused. Spare socks are amazing bits of morale in the morning but if your boots are wet, the joy of a dry pair of socks lasts until you put your boots back on, so is it worth carrying them? I use one pair during the day and accept they'll get wet. I keep a dry pair for the evening, so I know I'll have dry, toasty feet at night. I'll take a pair of Sealskinz socks for the last morning. I also carry a thin fleece and always have a synthetic jacket. I rarely carry anything else.
Clothing
I'd suggest having a really good read of a few forecasts before your expedition and choosing your clothes accordingly. If it looks like it's going to be a wash-out I'd expect to set off in my waterproofs and wear them throughout. That decision will influence the layers below. You get the gist.
I've known it to rain non-stop for the entire expedition before, which is a proper challenge! The Mountain Leader is expected to operate in any mountain conditions, we'll want to see that you can manage yourself and your group in very challenging weather. I'd advise you to practice in the worst weather you can find, and test your clothing system. It's really subjective and you'll just have to identify what works for YOU.
It's also worth thinking about how your kit works – when and why does the condensation build up inside your jacket? How can it be avoided? Have you reproofed it recently?! Other systems such as Paramo work slightly differently to Gore-Tex, each have their own merits and flaws. Reading up on the different systems and broadening your background knowledge is a good use of time, that way you can offer advice to the folk you're taking out. It's super handy to be able to offer informed, impartial advice.
In conclusion
I hope you've found this useful and it's given a few ideas about how to prepare and what you might encounter. We want you to enjoy the process, show us your stuff and reward you with a big pass at the end! The key to a strong performance on the expedition is looking after yourself. That means carrying enough but not too much, eating well; being warm, dry, comfortable and well rested. You don't have to break the bank to achieve this. Play around with things, have fun, and GOOD LUCK!