Interpreting the weather forecast for rock climbing
By Brad Reed - May 20, 2020
'You looked at the weather?'

'Yeah' A pessimistic sigh answers down the phone. 'It's going to rain all day, again.'

'Let's head to Upper Pen Trwyn. It's drier over there and quick drying, sheltered from this south-westerly wind and it hopefully won't be too greasy with this humidity.'
As a climber, being able to interpret the weather forecast allows you to maximise your days out climbing by taking into consideration important elements such as the precipitation, wind and humidity, which will help you with selecting a crag that will be in the best possible condition.
This blog will be focused on North Wales climbing but all the tips can be used elsewhere. Weather is an extremely complex subject and if you want to know more, the Met Office website has great educational resources, including videos.
Rain
The rock climbers' constant opponent! Fortunately, it comes in many forms and if we can understand the type of rain that is forecast we can hopefully beat it before we throw in the towel and head indoors.
Frontal Rain
The areas of rain that precede a warm or cold air mass. Warm fronts generally bring drizzly rain whilst cold fronts bring shorter periods of heavy rain. Check the timing of the rain. Fronts can accelerate or slow down, so if forecasters are talking about uncertain timings then get the most up to date forecast possible. Aim to get to a quick drying crag with a short walk in if a front is clearing through the morning. The Dinorwig slate quarries are a great choice for this scenario. Alternatively, get up early and head to the east (fronts generally come from the west) to make the most of a day if trying to squeeze in a climb before a front arrives. Upper Pen Trywn or Clwyd Limestone are good choices in this context.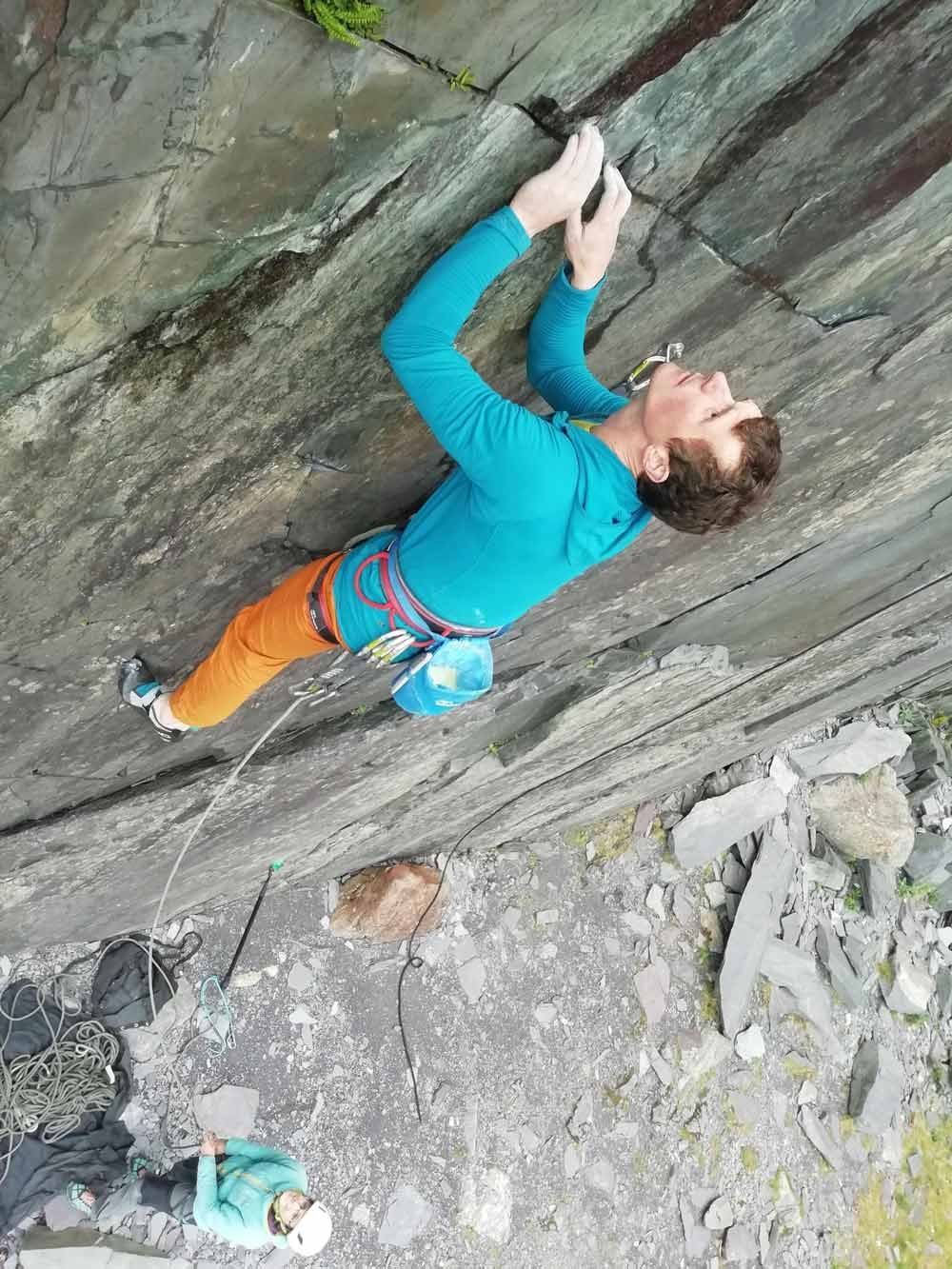 Kris Mccoey on Beltane, Bus Stop Quarry F7b+. A great venue for quick drying rock close to the road
Orographic Rain
This occurs when air holding moisture rises as it meets land. As the air rises it cools, and forms clouds which give rise to precipitation. In North Wales the mountains of Snowdonia accentuate this lift, and rain falls more heavily on the side of the hill where the wind originated from. On the leeward side of the mountain, rainfall is typically much lower as the now descending air has lost its moisture – this region is known as the 'rain shadow'. So, for example, with a poor forecast, heading into the Llanberis pass is not ideal. Luckily, in North Wales we have the option to drive to coastal venues where the air hasn't risen to dew point (the atmospheric temperature where moisture in the air condenses); lower-lying Tremadog or the crags around Holyhead are also likely to be drier.
Alternatively, we can use the rain shadow effect to our advantage. As the prevailing winds in the UK move from West to East, typically rain is heavier on the western slopes of Snowdonia's mountains, leaving the eastern sides significantly drier. There is more than a 2-metre average annual rainfall difference between Snowdon summit (around 3.7 metres of rain per year) and Conwy (less than 1 metre of rain per year) and they are only 30 kilometres apart. So, on marginal forecasts heading east to Castle Inn Quarry or Lower Pen Trwyn could provide you with dry rock.
Showers
There are several meteorological reasons showers can occur, but these short spells of rain can annoyingly soak the crag. In these conditions, think about heading to easy access venues that dry quickly so you can escape or hide somewhere while the shower passes. Showers are very unpredictable; sometimes you just must go and see if you can climb, the shower might not hit you at all.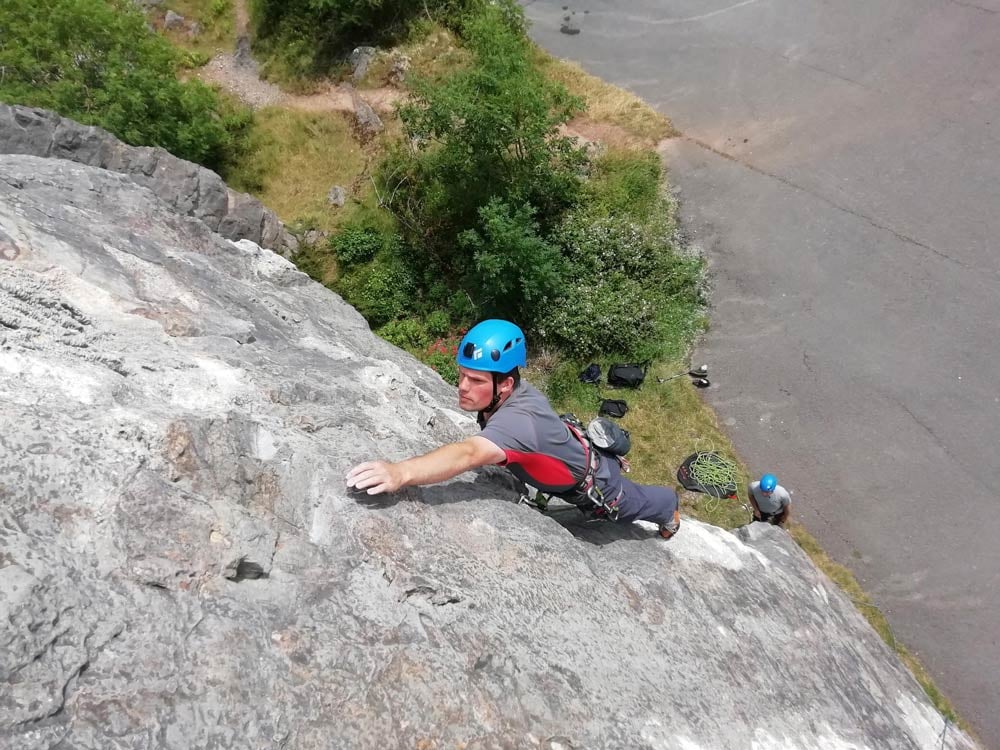 Castle Inn Quarry. Route 1, 5a. Excellent on a marginal showery forecast as it dries quickly, is in the rain shadow of the mountains and is roadside.
Permanently Dry Crags
If you don't fancy the wall again and have an itch to get outside, try one of North Wales' crags that are always dry. Carreg Hyll-Drem has a girdle traverse that is sheltered by steep roofs for three of the four pitches. As the crag is only a 2-minute walk from the road and a has a perma-dry bouldering wall at the base this is a great wet weather option. Parisella's Cave is also another great option, but the grades start at V5.
Alternatively, drop your grade and head out for a scramble or easy climb in the rain. Just be aware it can be very slippery but there is nothing like the feeling of water running down the rock into the cuff of your waterproof jacket and out of the bottom of your waterproof trousers!
Wind
Check the direction and speed of the wind and the aspect of the crag. The aspect refers to the direction the crag faces. If there is a strong wind coming from the west, being at an exposed west facing sea cliff could feel wild and cold. However, I have climbed on these same west facing sea cliffs of Gogarth in a t-shirt in February because the wind was blowing easterly and the sun was out. The crag provided a huge natural wind break with the temperature dropping significantly as we topped out. Woodland crags such as the Cyrau above Betws y Coed are excellent for shelter on windy days too.

Porth Saint, Rhoscolyn. A west facing sea cliff in excellent conditions. All the moisture evaporated with the sun and light winds.
Sun
Another reason for understanding the aspect of the crag is to either maximise opportunities to be in the sun or hide away from it. On cold weather days being in the sun can be the difference between not being able to feel your hands and being comfortable and warm. Whilst in the middle of the summer climbing can be unbearably hot in the sun. Choose east facing crags for morning sun, south facing crags to get the sun most of the day and west facing crags for afternoon sun. In heatwaves, heading up to a north-facing mountain crag, such as Cloggy, is a great option to escape the heat and climb on these crags when they are at their driest.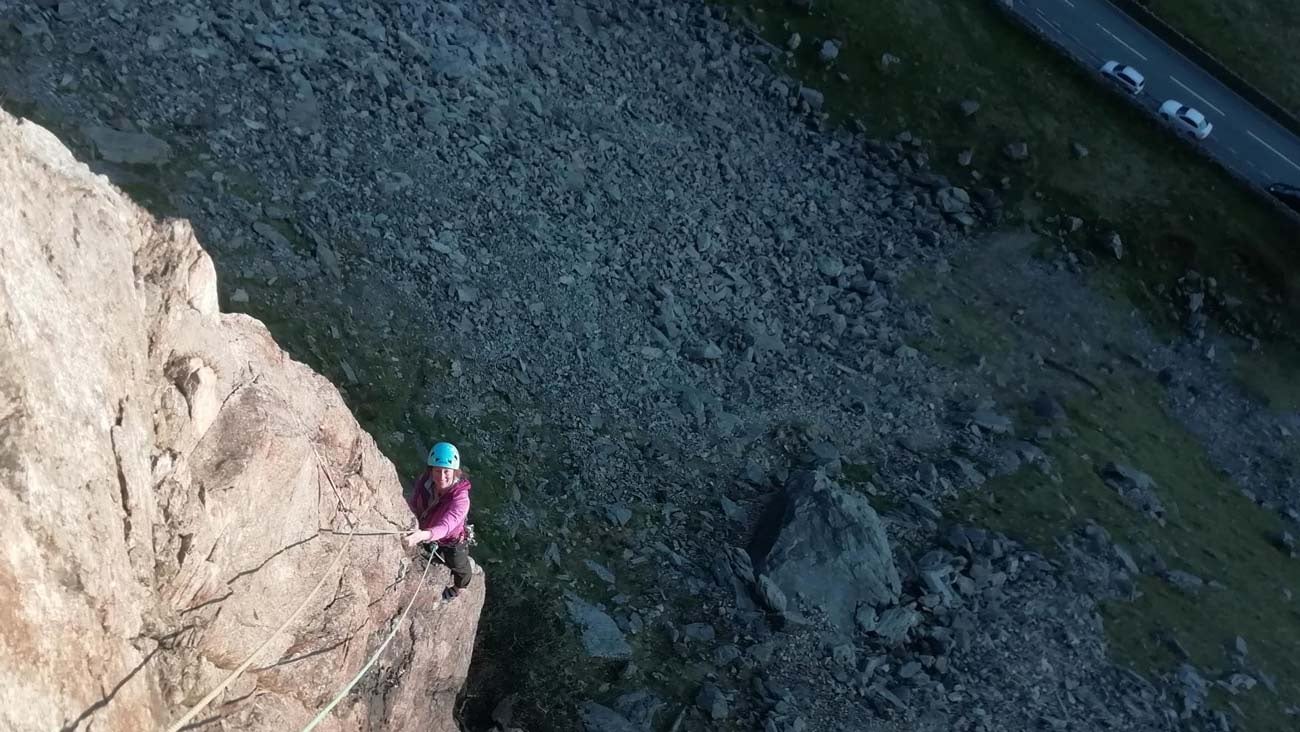 Chasing the sun up Phantom Rib, VS 4c Clogwyn y Grochan. Climber: Jill Reinsch
Humidity
Humidity is a measurement of the amount of water in the air. This is most commonly shown as relative humidity, a percentage measure of how close the air is to becoming saturated and starting to rain. As this is relative to the temperature, warmer air can hold more moisture so even with low relative humidity, the rock can still feel slippery if it is warm weather but a low relative humidity. This is most important when climbing close to the sea as the already moist environment doesn't fully dry out, leaving the rock feeling like it has been covered in butter! Avoid sea cliffs like Main Cliff at Gogarth, which looks dark grey when greasy, or Lower Pen Trywn, which looks light brown, in these conditions. Heading to inland crags with a gentle breeze on humid days will provide the best climbing conditions. When the humidity is above 80%, climbing on sea cliffs is likely to feel very slippery. Humidity also tends to be higher in the mornings and evenings, so having a lie in and climbing into the evening can be a great strategy on west-facing sea cliffs, like Red Walls at South Stack.
Useful Tools
When the forecast is mixed and changeable, try to look at as many forecasts as possible. All forecasts used gather very similar data from weather buoys, pressure sensors and satellites, but use different modelling data to predict the most likely outcome for the forecast. Identifying the similarities and differences between different forecasts will likely give you a better picture of the overall pattern of weather.
Looking at the rainfall radar will give you detailed information of where and how much rain has fallen, and how much rain is likely to fall.
If you are still unsure if it will be dry, look at some webcams. We have a camera at Plas y Brenin, there is one at Porthmadog railway station (near to Tremadog), another at Colwyn Bay (close to the Great Orme and A55 crags) and several others close to the Ogwen Valley and Llanberis Pass. Also messaging a mate or calling a business (like us!) who are close to the crags is a good idea.
Hopefully this will help you make the best choice of venue for your time climbing in North Wales, and give you some knowledge to help you plan trips to other locations as well. Venue selection is one of many topics covered on the climbing courses at Plas y Brenin, so if you want to know more and improve your skills, join us on one of our courses soon.
Remember, if you're sat despondently in Llanberis staring at the rain-soaked mountains, it may be dry somewhere not too far away.