Kira Quinton, Centre assistant at plas y brenin explains her views on the right to roam and gives an insight in to how a townie from a non-sporty family developed a love for the outdoors
By Jodi Hamilton - February 10, 2021
Kira explains why you don't have to be tall to be a good climber and shares her views about the need for more opportunities for kids to be able to access outdoors activity.
Plus there's links to the go to websites, that will help you open up a world of outdoor options, no matter what your previous experience is.
Tells us a funny fact about yourself.
I dabble in photography, oh yeah and every car I buy breaks down. No kidding.
Where are you from originally, I detect a lovely accent when you speak?
I'm from Somerset originally, but I prefer the hills up north.
Recently I've lived and worked in the Wye Valley at a canoe centre, so I was a quick 10 minute walk to great climbs and rapids.
"It's great here at Plas y Brenin too, as you're never be more than 30 minutes away from some of the UK's best rivers, lakes, coastline, crags, and peaks."
What's your favourite activity?
Climbing and kayaking are my favourite. Climbing is how I started at 8 years old and I spent every weekend indoor climbing from the age of 8 to 14. It's addictive once you get the bug, and it's thrilling and challenging too.
I've never been into the more traditionally 'mainstream' sports such as football, and rugby. My favourite sport has always been climbing.
When I was younger it was quite tricky for me to be in to climbing, largely because it wasn't something there was a family interest in. However, I have climbed since a very young age as I was lucky that a local school had a climbing wall. Climbing has always been an activity that pulls me back and reels me in. I especially enjoy traditional climbing, and am really looking forward to exploring some of the local multi pitch climbing in Snowdonia this summer.
What makes a good climber?
When you enjoy it. And I believe that you can achieve a lot when you put your mind to it.
There are lots of different types of climbs, and different ones suit different sizes and shapes of people. It's not just tall people that have great reach, for example. There are disadvantages and advantages whatever size and shape you are, for example, taller people tend to find it more difficult to keep their centre of gravity close to the wall or face.
Whatever shape or size you are, technique is important, which is why investing in some lessons when you first start out, does help with development.
I tried all sorts of different climbs, and locations, and did indoor and outdoor before deciding which suits me better. I do still climb the ones that I least prefer, to ensure I stay an all-rounder. With climbing, the strength you need comes mostly from your legs.
What made you apply for the position of Centre Assistant at Plas y Brenin?
The chance to work, live and train in an excellent location and to learn from the vast amount of experience that Plas y Brenin has to offer. The Brenin, as we affectionately refer to the centre, has lived up to this.
I've learnt a lot since I arrived in August 2020 - from the instructors particularly. There's not just practical aspects to our training and learning, we also work on how best to coach people and deliver great adventure experiences.
I love shadowing the instructors working in the mountains, and learning as much as I can from them whilst working towards completing my mountain leader qualification.
It's also fulfilling to be part of a team and centre which has such an amazing reputation.
I'm currently I'm working towards my mountain leader qualification. I'll be assessed later this year.
What was your experience in the outdoors before coming to Plas y Brenin?
I've worked in the outdoors for three years, as a multi-sport instructor, in a wide range of activities such as climbing, kayaking, canoeing, caving and high ropes.
I have been active in the outdoors for as long as I can remember, and took every chance I could to get out and make the most of the outdoors. This drive and passion for the outdoors has continued to this day.
I've always wanted to kayak, but I got into it much later than climbing. I started with white water kayaking when I was 18 years old on the Llugwy, a tributary of the River Conwy, and last year on a college trip, kayaked Exmoor East Lyne river, which is a very challenging paddle.
"My personal favourite kayak route is the one in the accompanying photo, which is from the Mellte in South Wales, upper Neath Valley. It's the first waterfall you come to as you get onto the river. I remember that day well as it was a real test of my personal paddling capabilities. I could see and sense the progress I'd made and that's really motivating.
"I tend to prefer entertaining routes which are continuous and not too technical. Like those on the river Seiont, which finishes in Caernarfon."
What was your first experience in the outdoors?
This will sound strange, but my first experience in the outdoors was an indoor climbing group.
I started going to every Saturday from the age of eight. My mum and family weren't overly 'outdoors' people in those days, so it was quite difficult for me. But my indoor climbing experience led to a desire to do more outdoors and try new challenges.
I spent a few years in the local Army Cadets to get more opportunities in the outdoors, before then being guided towards my first outdoors college course.
I didn't go to Uni. I did Level 2 and 3 apprenticeships and spent year 3 attaining the National Governing Body (NGB) awards.
Why did you choose Plas y Brenin?
I chose Plas y Brenin for the amazing wealth of experience that I can draw on whilst I'm working here.
I was aware of the reputation before applied, and Plas y Brenin has absolute credibility in the industry. For both those that work here and for customers, the quality of the instruction and the courses is well known.
I wanted the opportunity to become more qualified during my time here. Being here is full of opportunities, to improve my knowledge, and expand my experience, both professionally and personally.
If you could add one course to Plas y Brenin what would it be and why?
My first thoughts are to suggest adding a course relating to the Himalayas, as a next step from the Alpine Skills course that's already offered.
However, I'm also drawn back to my own personal journey, so if I could add a course, it would be something geared up to attract young people; those with a similar background to my own.
"It would be amazing to offer courses to those on things like youth offending orders, and/or to those that have been identified as at risk of offending. There are specialist education teams that work with schools, and social services, who can point kids towards the benefits the outdoors.
"For ex-townies like myself, I'm grateful that I could share the outdoors, and gain knowledge and experiences. It's given me a real sense of achievement. I've learnt a lot about building and working as a team, and about trust. I'd like others to be able to experience these important things, as I have."
Where do you see the future of the outdoors going?
The outdoors and outdoor activities have become more accessible and popular. As with the start of my own passion for the outdoors, a lot of this could be due to the increase in indoor climbing. So, I hope the developments and opportunities to enjoy indoor climbing also increase.
In lockdown there's been a trend for indoor practitioners to also enjoy outdoor climbs – in line with restrictions of course.
"I'm personally interested in better understanding the relationship that exists between landowners and adventurers / explorers. Having access to the great outdoors requires co-operation and understanding between the two parties.
"It's important to protect the rights of both, and to ensure that cliffs, rivers and mountains remain available for people to enjoy and explore. What's also important is that people respect the land, explore it with minimum impact and with sustainability in mind for future generations.
"With trust and respect, and the right protections and legal framework, perhaps we could even experience areas that were once inaccessible, being opened up for enjoyment."
Currently there are plans to turn trespassing from a civil offence to a criminal one. Like the campaigners, I'm worried it could threaten the right to roam. I'm against the change but I think it's not necessarily aimed at the outdoor industry.
What isn't helpful it the myriad of different requirements and rules that exist in the UK, which are also different in each country. There's rules that apply to accessing land and rules that apply to accessing clear water and rivers too.
Some routes require you to attain explicit consent, there's footpath access, public bridleways and common land, known agreements, unknown agreements.
It's complicated, but it shouldn't be.
What do you think is the perception of the outdoors among the general public?
I think at the moment, for a lot of the general public, their experience of the outdoors may be limited to school residential trips, and maybe some local knowledge – dependant on their location and if they live in areas that provide popular activities.
But, overall I'd say the general public has a limited knowledge of the opportunities that are readily available in the outdoors – from entry level and beyond.
I think people are put off because they think trying outdoor activities is costly, for example that you need lots of specialist kit, transport, safety instruction, the help of an expert etc. But there's lots of inexpensive activities around if you look and lots of places provide kit hire, if it's needed.
Try the links to the websites below for ideas around inexpensive outdoor experiences, and I'd advise you to look on local listings and tourist board websites too:
Useful links and resources:
Follow the team of centre assistants and Plas y Brenin on social media
Facebook
Instagram
Twitter
LinkedIn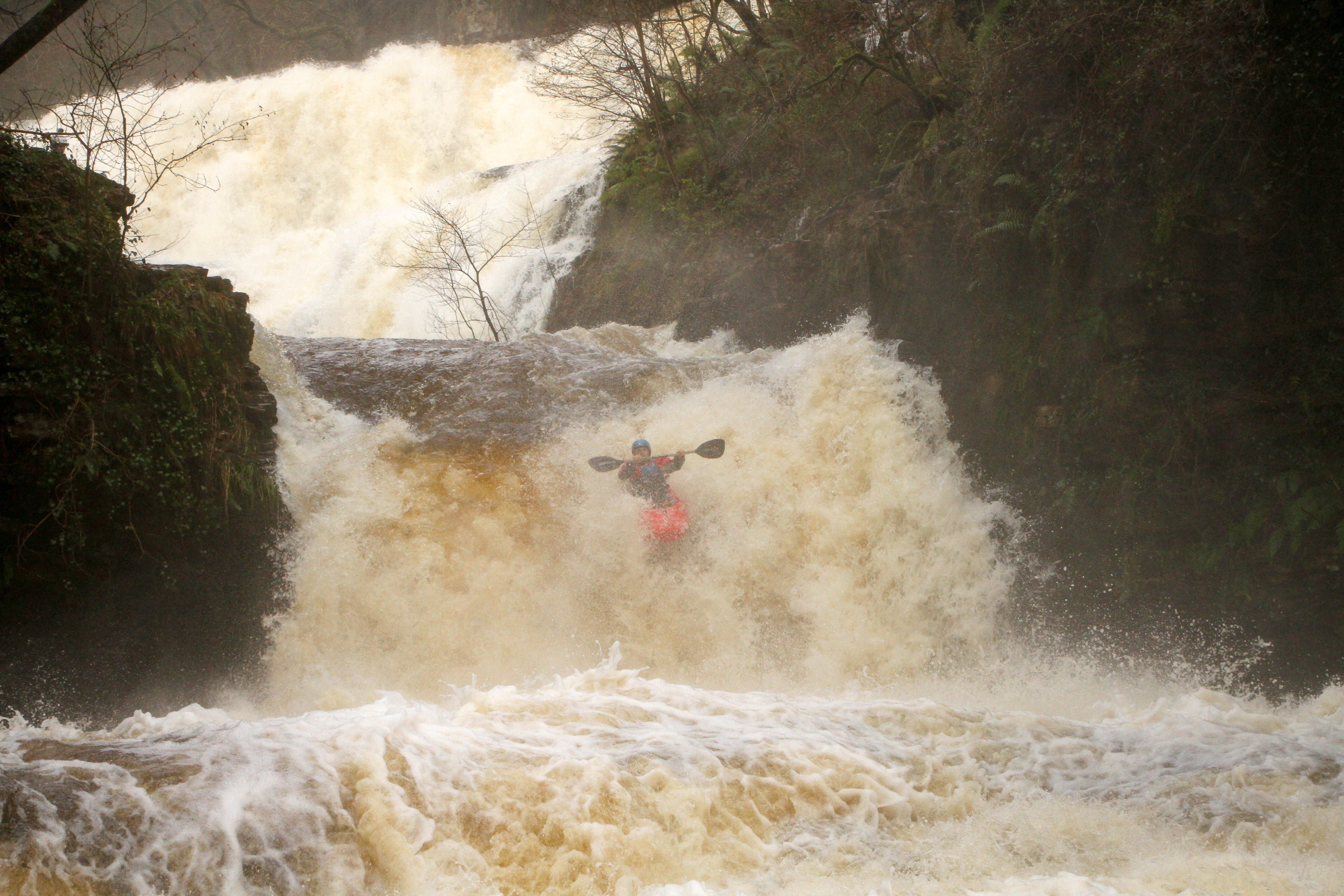 A TOWNIE TURNED OUTDOOR LOVER
Kira Quinton, Centre Assistant at Plas y Brenin explains her views on the right to roam and gives an insight in to how she developed a love for outdoor activity despite being a townie from a non-sporty family. Meet her fellow colleagues and try out an Epic Adventure Activity Day.