The Lockdown Logbook
By Steve Worth - June 05, 2020
Lockdown preparation for your Mountain Leader assessment.

We're going to properly come out the other side of this at some point in the not too distant future. Our hills and mountains of the UK have had a chance to have their own breather, a brief, natural recovery before the return of ever-keen walkers and climbers enjoying once again what our national parks have to offer.

Our alpine plants blossomed in private this year, on rocky outcrops and on high ledges, their first moments missed by naked eyes. It's been a while since foot & mouth last shut our access, and it felt like an age then as well.

So while access to our mountains might be limited at the moment, this doesn't mean we should let our hopes and ambitions of becoming a Mountain Leader be ruined, the assessment may be put back until next year now, but that's ok, spend this time wisely and even at home, you can avoid skill fade. With some prior planning, some research and maybe even a schedule, when this thing passes, you've got an action plan to ensure you are fully prepared to come on an assessment.
Part 1: The logbook


Your digital logbook (DLog) is like your record of achievement from school. It's evidence. It's you. It's your record of where you've been walking, the experiences you've had and the journeys you've undertaken. Your ML logbook is like a CV for a 5-day job interview. If you go for a job interview would you make sure your CV was complete? Had everything in it that's relevant, pre-requisites achieved, nicely presented. Or would you be the candidate that turns up without ticking all the boxes and hope to get by? 5 days is hard to bluff…we're looking for consistency over 5 days, in all aspects; planning, navigation, managing, leading & dealing with emergencies in the mountains, tested in British 'summer' weather. It can feel quite stressful if you're not prepared. Your logbook should reflect the preparation you've done, your hobby and the learning process you've gone through. It should compliment you and your performance. You've been to those places, you've had the experiences and those experiences have shaped your decision-making process and understanding of the environment.

All the information, the prerequisites, checklists and guidance are found within Mountain Training's website. Herein lies one particularly important point for candidates "…logged a minimum of 40 Quality Mountain Days in three different regions of the UK and Ireland…". Emphasis should be on the word minimum.

Life, the family, work all get in the way of the amount of preparation we can achieve before an assessment. Especially if found guilty of booking an assessment course before actually reaching the prerequisite number of days required. "There's plenty of time between now and then to practise X and gain further Y days…". But all of a sudden the assessment's arrived way too soon and you haven't done sufficient practice. Don't rush to arrive underprepared and aim to exceed the magic 40…minimum. More time in the mountains can only have a positive effect on your confidence under pressure. Having more opportunities to practise your nav in reduced visibility, for example, means that when it's your leg, the last one of the night back to the tents, you don't wobble, you've got it nailed; hot chocolate, biccies and bed.

Prior planning prevents poor performance or something like that, it really does apply to this assessment. With this qualification, you could lead groups in the Scottish Highlands or Mourne; what experiences have you had that you feel make you ready to do that? Try to plan a clear preparation pathway. Allocate weekends to focus on different skills. It's often easier said than done when governed by certain time pressures, particularly because of work, but now we've got a bit more time on our hands, it's a good time to reflect and to take stock of where we're at. What's the DLog looking like, begin your preparation by formulating a plan.

In exceptional circumstances nowadays other formats are acceptable but generally the DLog is the way forward, it's really easy to complete. We need to focus on the content. Documented evidence that supports you as an aspirant mountain leader. How many actual quality mountain days have you got? Are the entries listed in the relevant section? It's really handy that you can upload photos & GPX files for each entry too. You can even upload files to your profile such as an old logbook from back in the day.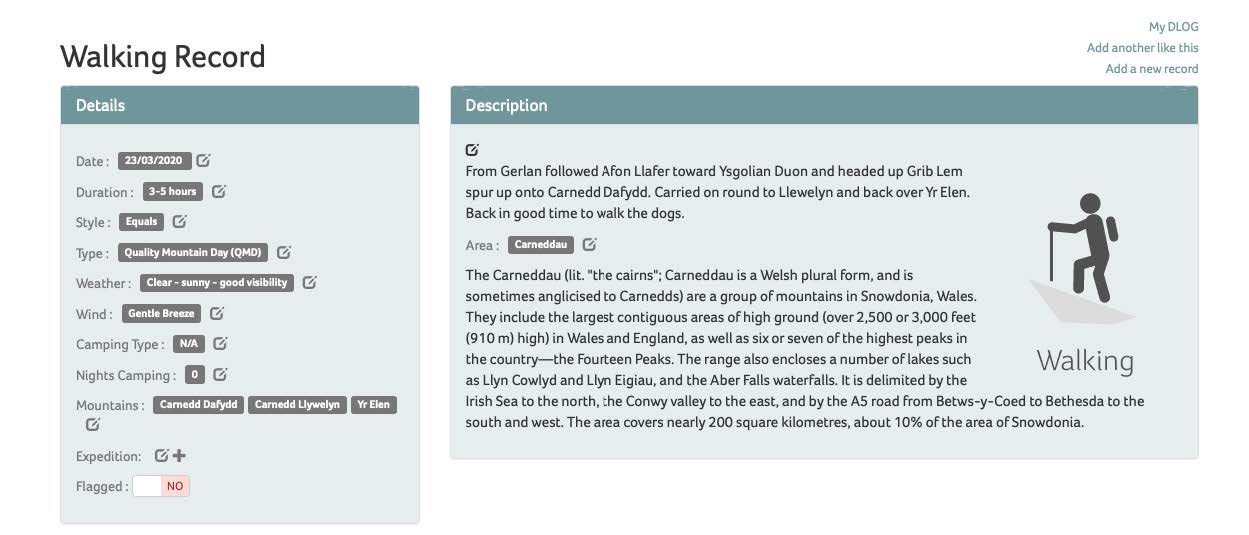 An example of a DLog entry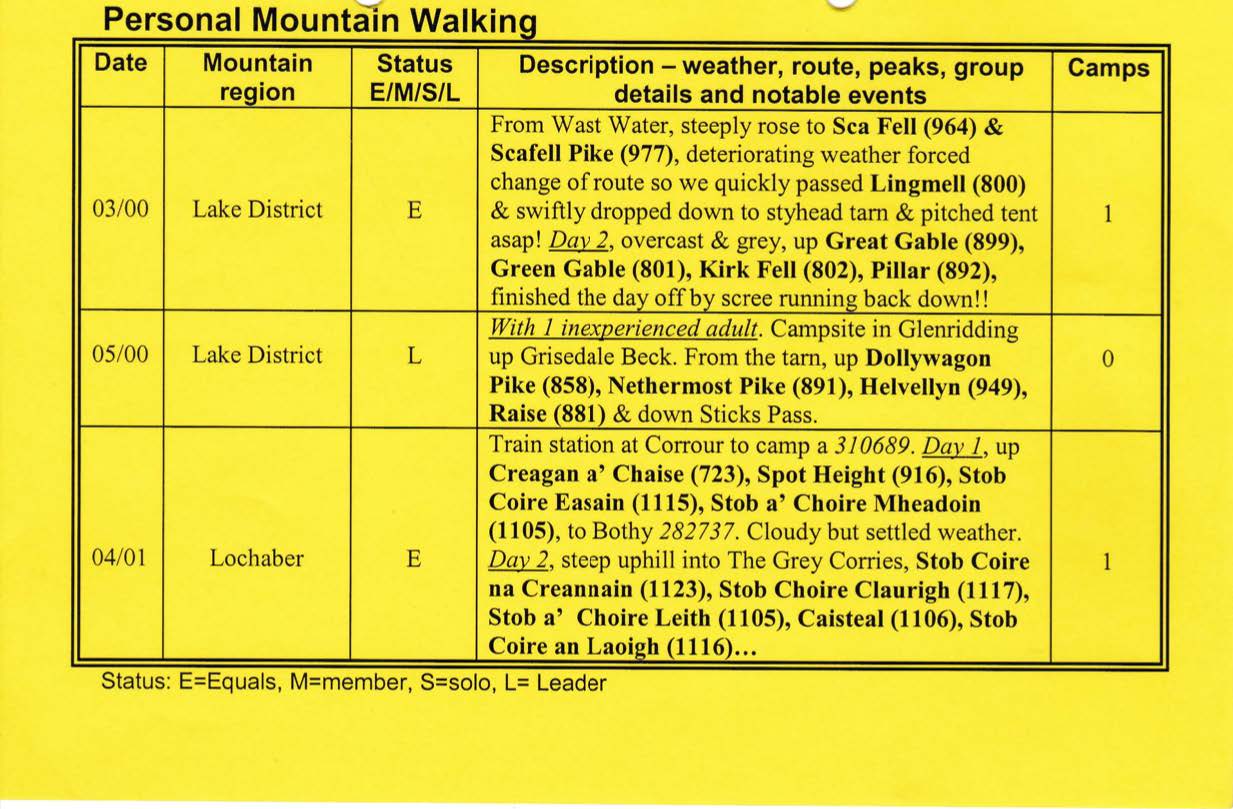 Life before DLog
Check the Mountain Training definition of quality mountain day criteria here, have you included some detail with your entries? It paints a much better picture if you can at least recall something about the day. Someone asked for a definition of a QMD, I replied one you can still remember in 10 or 20 years.. maybe a big ask for every day out but you'd be surprised. Useful information might include when you remember having to navigate in bad weather or tricky route finding. Lighten the tale with the day when your waterproofs leaked or there was a blister story, we're not after War & Peace, but painting a little picture makes it realistic.

So, you've now sifted through your logbook and there are a few repetitions; a favourite mountain or two, just a blast out for an afternoon or early morning before heading south. DLog lets you log Mountain Walking separately to Quality Mountain days, so be critical, is that really a beneficial addition, did it fulfil the criteria aforementioned? Did you learn anything new or practise anything or was the motivation of a quick hit overriding everything. Unless you have gone up the same mountain by a distinctly different approach, be cautious when adding that second ascent as a QMD and maybe pop it in the mountain walking section.

Are the two routes below sufficiently different enough to be both used as logbook entries?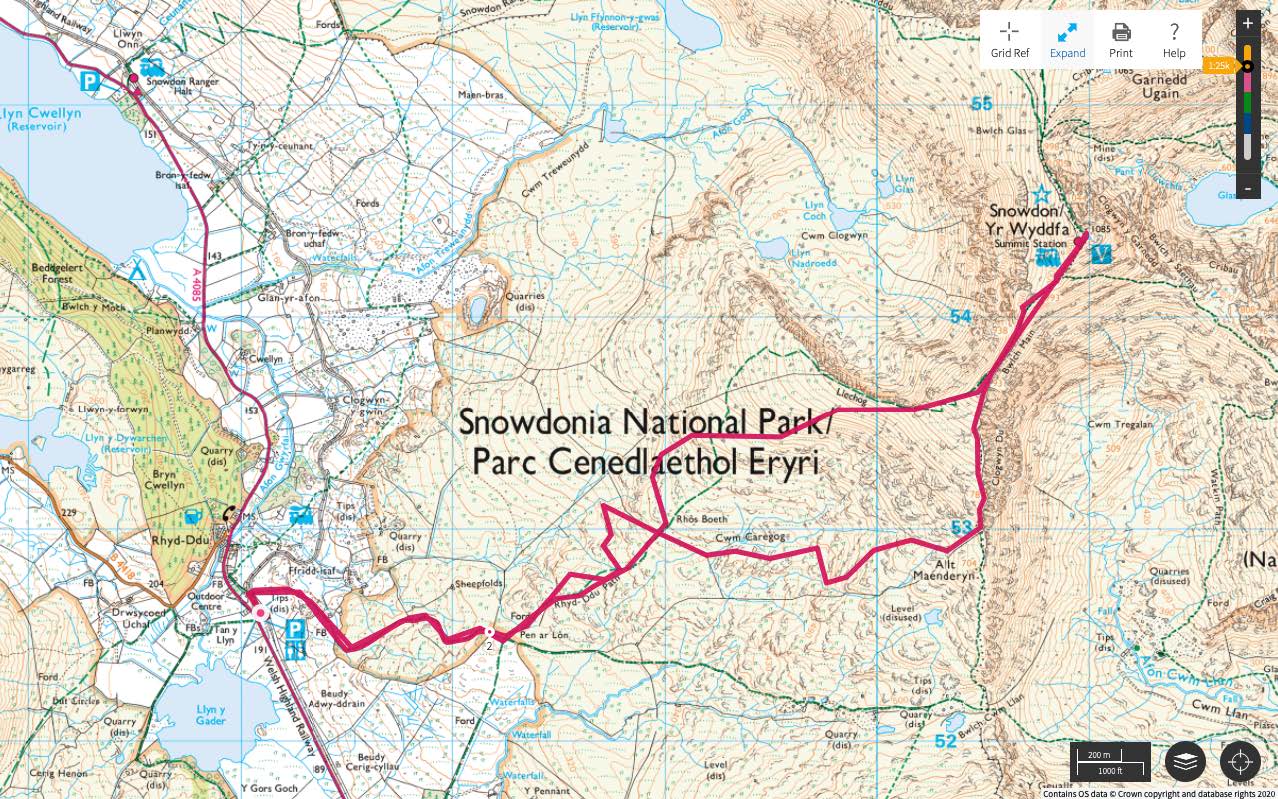 Micro-navigating up Snowdon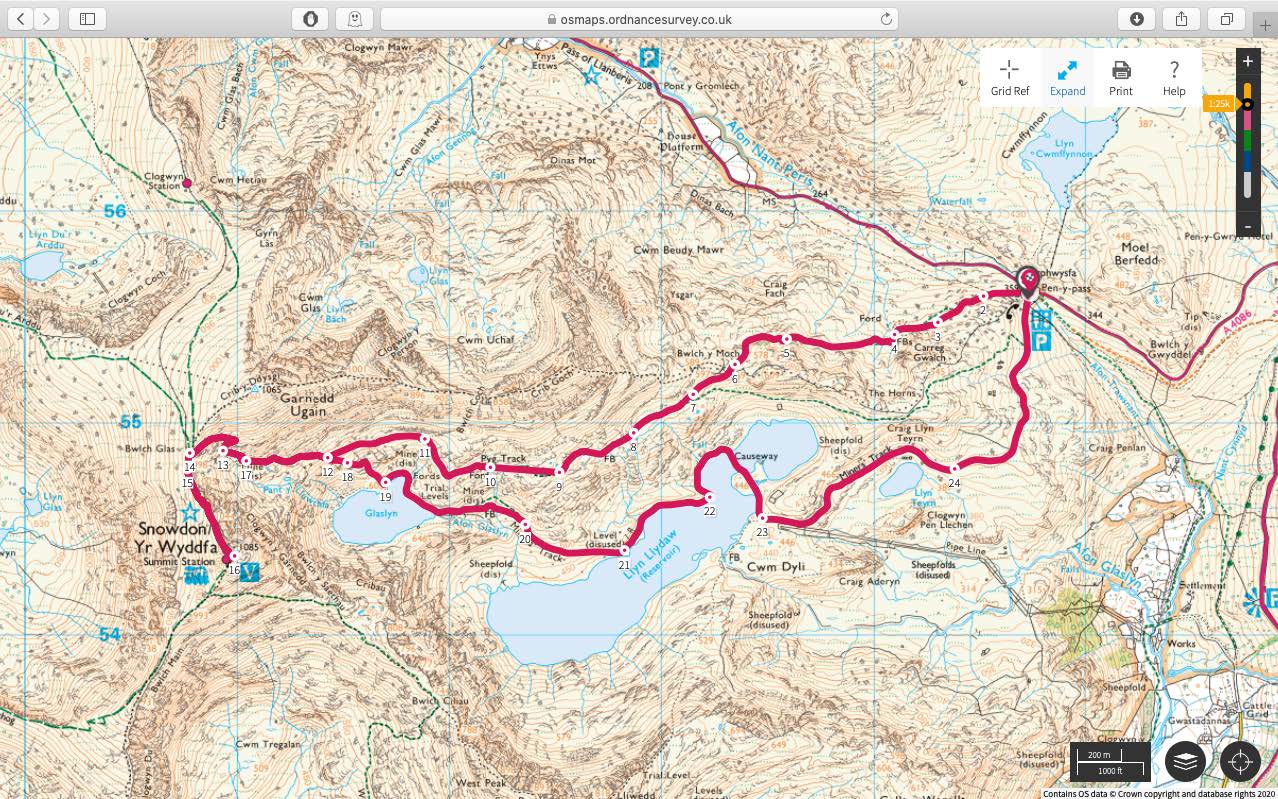 Or taking the tourist route
It's greatly advantageous if you can evidence a variety of experiences and adventures, that's why it's required that you visit at least 3 different mountainous areas of the UK and Ireland. Again check the area definitions section here as sometimes candidates may sell themselves short by trying to bulk out logbook entries by using days spent in the Peak District or Dartmoor. Areas which aren't listed, so to include such locations your journey must require some thoughtful route planning for it to qualify be a valuable addition to one's logbook. If in doubt, log days spent in these areas in the hillwalking section instead. This is where some lockdown adventure-planning starts. Have you read or own Wainwright's guides? or seen Munro's tables? Do you visit UKhillwalking or Walkhighlands websites? Read around, get inspired.

Eight nights camping of which four should be wild camping. Easy. What are the considerations for an overnight stay, legalities, access, personal admin, kit etc? Now is a perfect opportunity to start planning some long weekend mini-adventures or longer trips! It's an opportunity to explore some remote, wild places, go camping for a purpose. You could explore the Scottish Highlands and utilise bothies as well, they are unique, beautiful old buildings in idyllic locations. Take some coal, have a wee dram and tell tales until the sleeping bags calls. So take a look back at your logbook, are there any glaring omissions of places you haven't been? How much time have you got? The area you decide might also then influence which scale of which map to use, don't forget using 1:50's really important, often overlooked, but perfect north of the border. Have you tried using Harvey's 1:40 maps? Do some research and plan it all now. Furthermore, easy access to digital mapping, it's a great opportunity to develop your understanding of it, plotting & analysing routes, exporting GPX files, see if you can install a GPX file on your computer or phone, GPS unit or watch.. it is all valuable time spent furthering your knowledge and awareness of what's on the market today and plotting some new adventures should keep the appetite fed. Mountain Training Association and social media can be really useful for ideas and knowledge sharing by joining certain groups or searching out specific mountain hashtags and see other stories of other people's visits.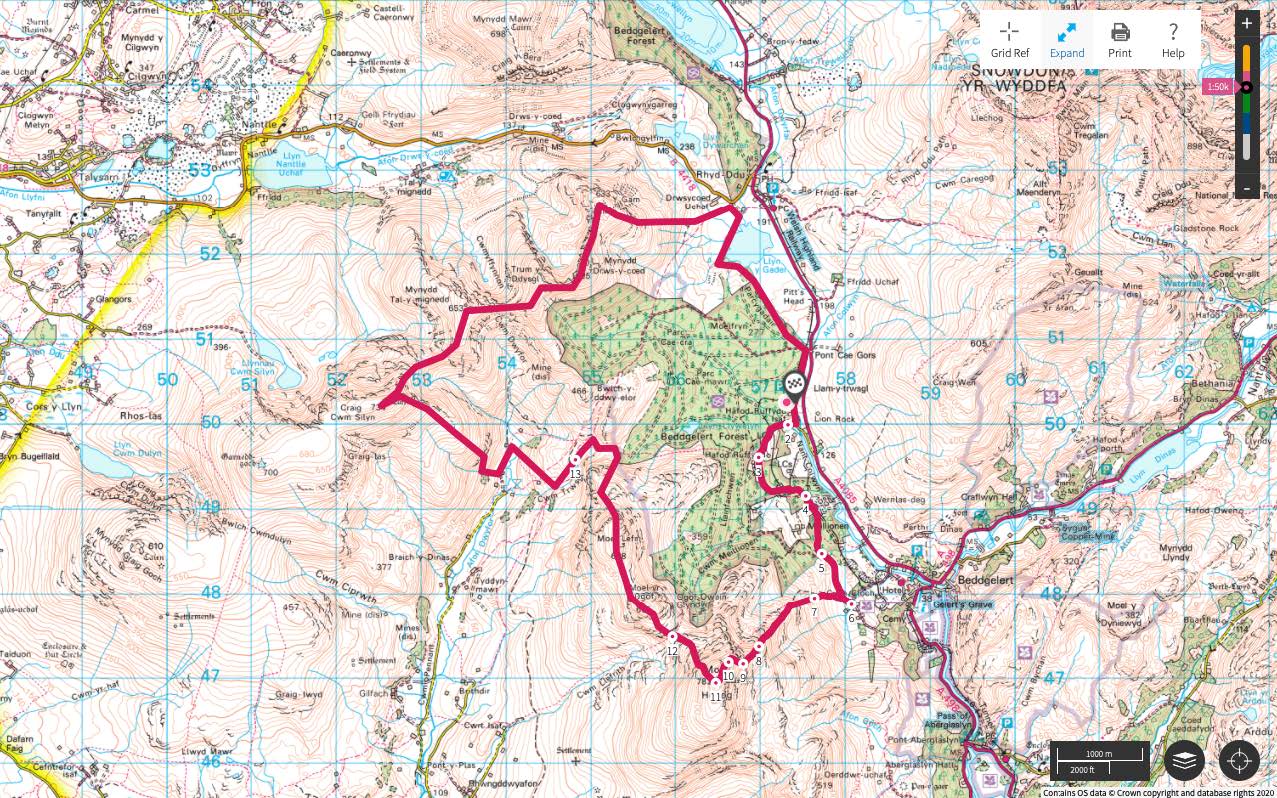 Two-day Snowdonia GPX file here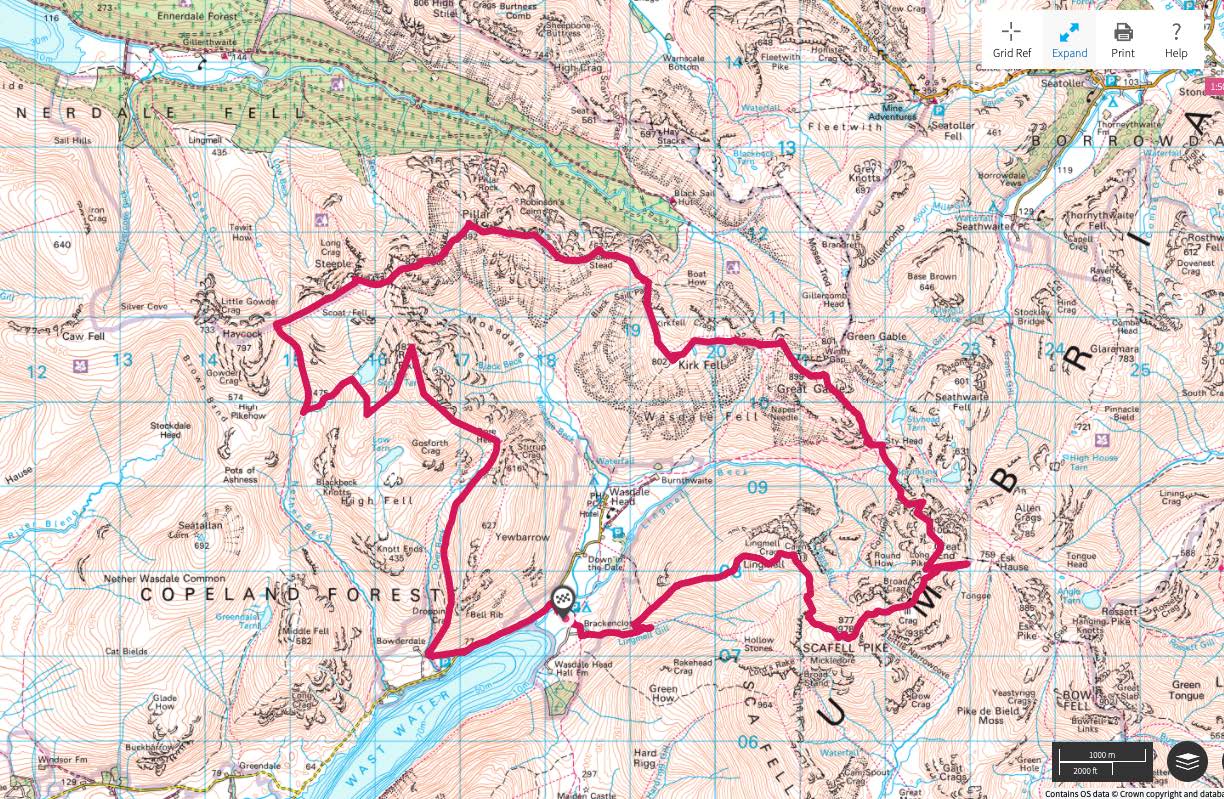 3 Day Lake District Journey GPX File Here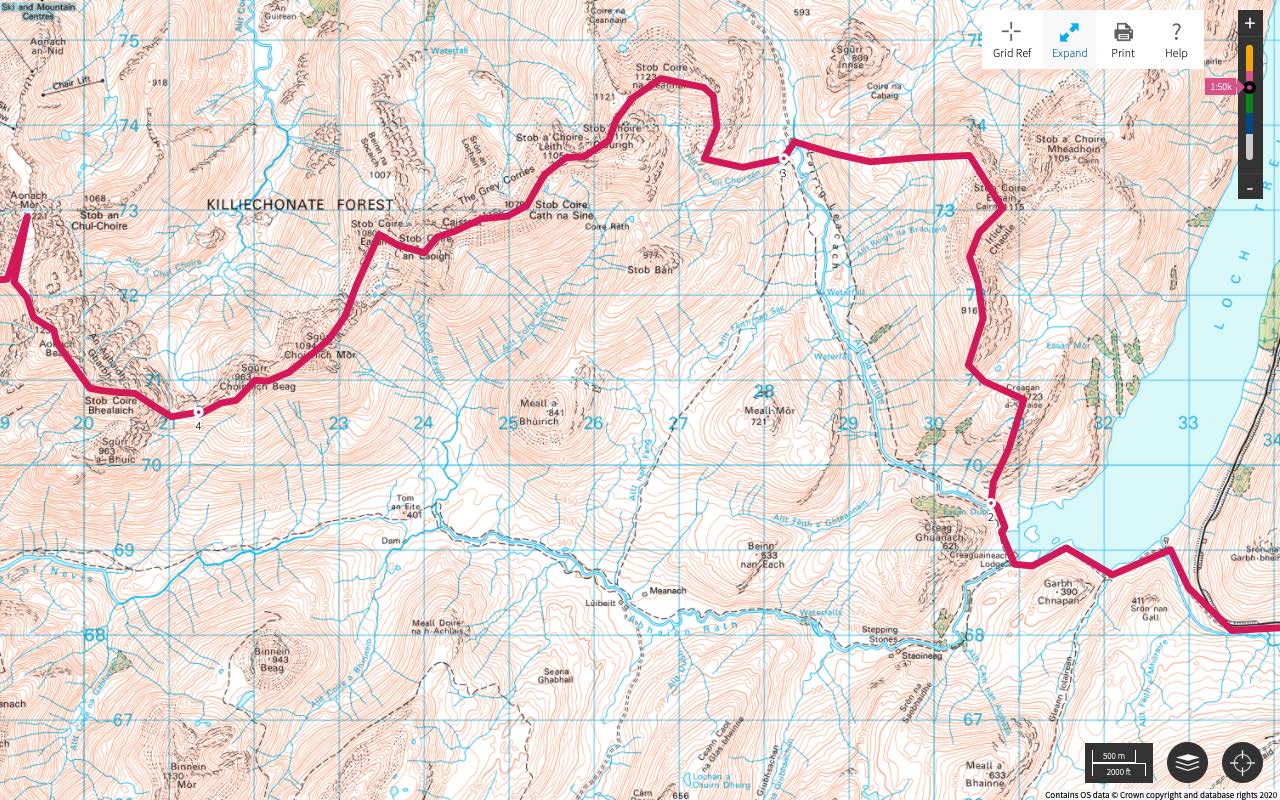 Traverse of the Grey Corries GPX File Here
Summary:
Have you read the assessment prerequisites?
Have you fulfilled the prerequisite number of entries?
Have you scrutinised your entries that they actually fulfil QMD criteria?
Have you shown a variety of relevant locations?
Have you spent time wild camping?
You should now have a clearer understanding of how your logbook you should look, reflecting on areas that you haven't visited and hopefully some ideas of journeys that you would like to undertake in the future. You should hopefully have found the GPX links and uploaded them to a computer or tablet, use a digital mapping interface to view them familiarise yourself with what digital mapping can do.